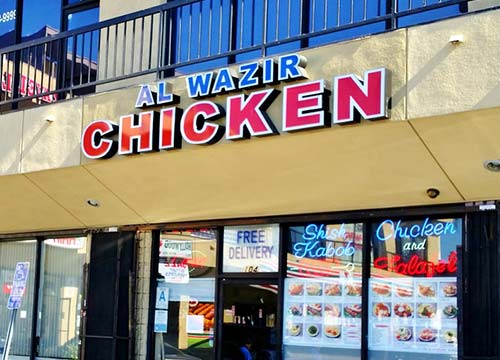 Overview
Al Wazir Chicken, Eat Healthy Live Healthy low fat Mediterranean cuisine in Hollywood since 1989.
When I grew up in the Middle-East, my mother always made sure that we had a healthy, balanced meal with fresh meats and tangy spices from the market accented by the freshest of vegetables. No fad foods. No gimmicks.
Now that same tender, home style cooking is served in Hollywood at Al Wazir Chicken.
We marinate our chicken in natural spices and slowly flame-roast it to perfection in our rotisserie ovens. Golden, crispy brown on the outside with succulent juices, sealed on the inside. Our chicken is served with fresh garlic paste, natural spices and hot pita bread.
Al Wazir Chicken serves fresh mouth watering, chicken shawarma marinated in a delicate mixture of spices and natural oils, flame-broiled and served on a bed of tender, steamed rice or wrapped in pita as a sandwich.
Al Wazir Chicken is dedicated to creating healthy, nutritious home style food. We follow the finest tradition of Middle-Eastern cuisine. We never use frozen meats or vegetables. Frankly, many of our dishes could not be prepared at home for the same low prices you will find here , at Al Wazir Chicken.
Relax and join us for delicious food, right in your own neighborhood, at Al Wazir Chicken. Watch the first taste put a smile on your face.