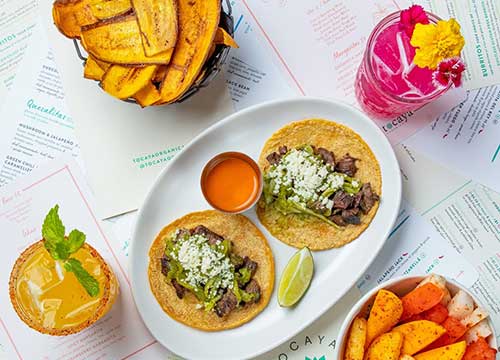 Overview
We've created a movement behind our signature 'Modern Mexican' cuisine by using the highest quality ingredients paired with bold flavors. We offer salads, tacos, bowls, and burritos – serving them in a sophisticated yet accessible fast casual setting. Our versatile menu is rooted in traditional Mexican recipes, naturally accommodating a variety of preferences including vegan, vegetarian, and gluten-free.
Locally sourced produce is the foundation of our chef driven menu. Underscoring our commitment to serving natural and sustainable ingredients, Tocaya only serves meats and fish that are fresh and are 100% free of hormones, steroids, and antibiotics. Above all, we believe in making choices that have a positive impact on our health, our communities, and future of our planet.
Better eating is achieved with every meal, down to every last detail.